dr. al manesh

periodontist

26800 Crown Valley Pkwy
Suite #425, Mission Viejo,
CA 92691

Office: (949) 364-2935

get directions
Lectures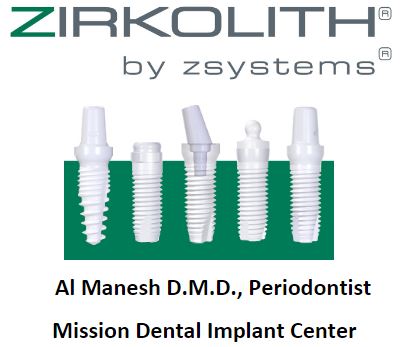 Dr. Manesh is excited to present  Z-Systems two piece all ceramic implants. Zirkolith implants are very aesthetic and biocompatible, with fast integration and predictable results. Zirkolith Implants also provide the best tolerability in the human body, fast osseointegration and excellent regeneration of the gum tissue.
For: Dentists, hygienists, and other staff members.
Date: Thursday, January 26th, 2017
Time: 5:30- 8:00 Dinner and Lecture
Fee: Complimentary
Location: 135 Columbia, Suite 101, Aliso Viejo, CA 92656
RSVP: Phone or text Lesa's cell (949) 363-3914
Email: lesa@missionimplantcenter.com
Gift Card drawings
Will receive 2 CE Credits for attendance
If you can't attend please call Lesa to schedule a meeting in our Mission Viejo, CA office.