Mission Dental Implant Center presents:
HALF-PRICE DENTAL IMPLANTS!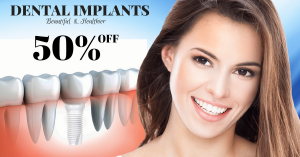 As part of Dr. Al Manesh's professional training courses for dentists, he is currently offering a limited number of patients half-price dental implants. Training courses are held two days per month in his state-of-the-art facility in Mission Viejo. Interested patients would simply need to agree that the dentists that Dr. Manesh is training would be allowed to observe the patient's implant placement surgery. All surgery would be performed by Dr. Manesh who has placed over 7,000 implants in the past 20 years. As an added patient benefit, the implants being used would be metal-free ceramic zirconia implants, which provide better aesthetic appearance, corrosion-resistance, non-conductivity, and have no potential allergic reactions compared to titanium implants. Dr. Manesh has placed more ceramic zirconia implants than any other doctor on the West Coast and only uses the highest quality implants made by the Swiss manufacturer, Z-Systems.
If you are interested in learning more about how you can replace a missing tooth with a beautiful metal-free ceramic zirconia implant at HALF PRICE, please give Mission Dental Implant Center a call today! Enjoy a younger, more attractive appearance and increased comfort eating all of your favorite foods! Don't miss out on this limited time offer!
Call (949) 364-2935 today!   http://www.missionimplantcenter.com.