When missing multiple teeth, particularly front teeth, patients may experience a drop in self-confidence, speech, and chewing ability. With multiple missing teeth, the bony structures of the face may undergo changes, causing patients to have a droopy or sagged faces. There are a variety of treatments that are designed to help replace missing teeth, restore form and function, and even prevent further bone loss.
What's the impact of missing teeth?
---
In some cases, there may be little-to-no impact. Depending on the location of a missing tooth, you may not really notice a gap in your mouth. This might be the case if you're missing a tooth in the back or side of your mouth. But your teeth are designed to work together, so missing one or more teeth can sometimes impact speech, eating, and over time cause other problems.
Why dentists Recommend Replacing Missing Teeth
---
For many people, missing teeth seem natural. Their parents and grandparents had missing teeth, and now they do. However, missing teeth can lead to some serious issues:
Why dentists Recommend Replacing Missing Teeth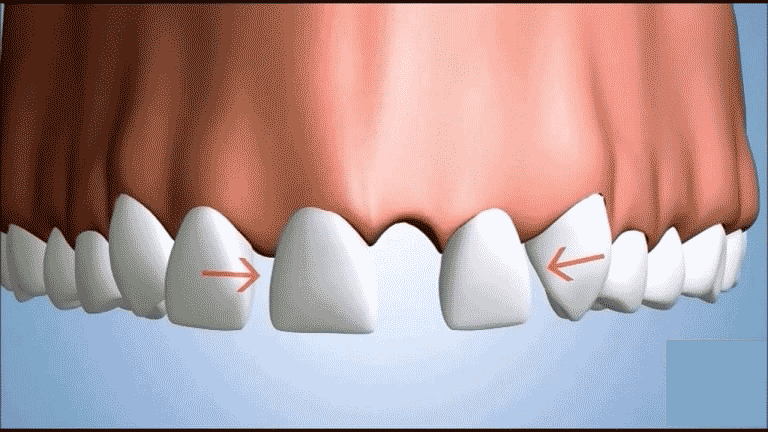 The teeth surrounding the missing teeth are more likely to drift and shift out of place, which can cause misalignment, decreased functionality, and gum irritation.
BONE LOSS
When a missing tooth is not replaced, the bone begins to be reabsorbed into the body. This leads to bone loss, which can gets worse over time.
BONE LOSS
Depending on the location of the missing teeth, it can be tough to talk clearly or be able to eat what you want. If it becomes harder or uncomfortable to chew your food, it may lead to only eating on one side of your mouth or having to eat at a much slower pace. This can affect your jaw and facial muscles.
UNNATURAL GUM LINES
As the bone recedes at the site of a missing tooth, the gum line also recedes. This can give your mouth and cheeks a sunken-in, aged look.
SOCIAL EMBARRASSMENT
Having several missing teeth can lead to discomfort in social situations, leading to lowered confidence.
Changing the shape of your face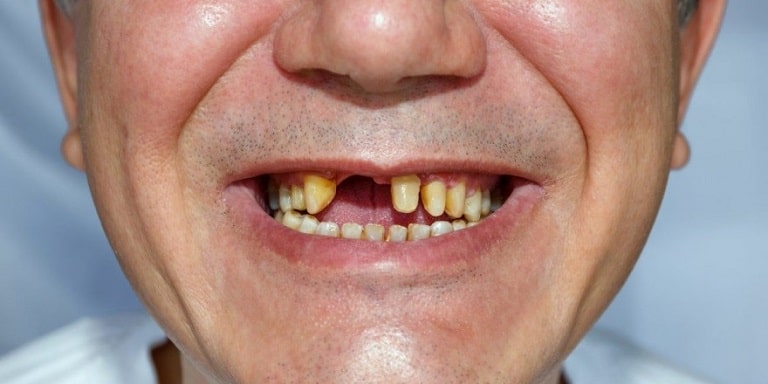 Missing teeth can change the shape of your face, as it can cause your mouth to shift.
Also, your bite might change to make up or compensate for lost teeth, and the remaining teeth may shift and move given the extra room. This can cause other issues such as tooth sensitivity, tooth grinding, and difficulty chewing.
Complete Your Smile with the Latest Solutions
---
Many people are missing 1 tooth or more. If you are among those who are missing multiple teeth, you do not need to live with an incomplete smile. Your doctor has the solutions you need to complete your smile. In addition to traditional options, dentists also offer the latest treatments using dental implants.
Replacement options for multiple missing teeth
---
Implant Supported Bridge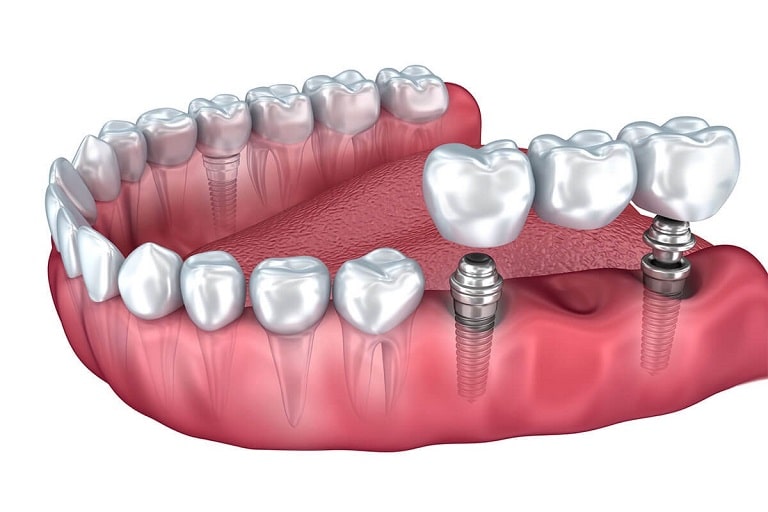 An Implant Supported Bridge consists of an implant, or series of implants, that anchor a dental bridge to the patient's bone. Implant bridges can help preserve healthy, adjacent natural teeth while maintaining the integrity of facial structures. Implant supported bridges are a superior tooth replacement apparatus because of their aesthetics, comfort, and prevention of bone resorption (deterioration). Dental implants look, act, and feel like a patients natural teeth. With the tooth biting ability restored, patients are able to eat the foods they love. This includes foods like crunchy or sticky snacks.
The Dental Implant Process
As an alternative to conventional treatments, your prosthetics can be secured to your jawbone using dental implants. Titanium implant posts are surgically placed into your jaw to act as new tooth roots. This allows you to regain the next best thing to your natural teeth; however, the treatment process will take several months.
A CT scan of your mouth is used to assess your oral health and to determine the placement of your posts. It is not uncommon to need additional procedures before beginning the process, such as tooth extractions. After the foundation is set for your new smile, your posts are surgically placed into your jawbone. Over the next several weeks, your jaw fuses to the posts to allow them to remain in place for a lifetime with the right aftercare. After properly healing has occurred, you are fitted for your oral prosthetic.
Advantages of dental implants
The biggest advantage is that the replacement tooth resembles a natural tooth and can last for decades.
Another advantage of an implant is that nearby teeth aren't involved (like with a bridge), so the rest of your teeth should remain intact.
Tooth-Supported Fixed Bridge
A tooth-supported fixed bridge consists of a replacement tooth that fits a gap between teeth. They require that healthy adjacent teeth be ground down to anchor points for the bridge. These fixed bridges offer strength, stability, and will even feel and function like your natural teeth. Tooth-supported fixed bridges tend to last about 12 years.
Crown & Bridge
If you don't want a dental implant, see if you're a candidate for a fixed dental bridge. This tooth replacement option might be effective if you're missing one or more teeth in the same area.
A fixed bridge essentially bridges a gap caused by a missing tooth using a dental prosthetic or artificial tooth. The prosthetic is attached to adjacent teeth and then bonded in place using dental cement.
A crown and bridge is the most traditional treatment for 1 to 3 consecutive missing teeth. A bridge of prosthetic teeth is created to match to color, size, and shape of your natural ones to blend in seamlessly when you smile. To hold it in place, your adjacent teeth are reshaped to allow dental crowns to be placed over them. With the right care, your bridge can last about 5 years before needing to be replaced.
Advantages of dental bridges
Bridges are beneficial because they feel and look like natural teeth. You might find they improve the appearance of your natural teeth on either side of the space.
They're also typically cheaper than dental implants.
Disadvantages of dental bridges
It can be difficult to clean around the tooth underneath the bridge. Bridges involve altering existing teeth. Also, a poorly fitted bridge could gradually damage adjoining teeth over time.
In addition, plaque and bacteria could seep underneath the bridge, causing tooth decay or an infection.
Removable Partial Denture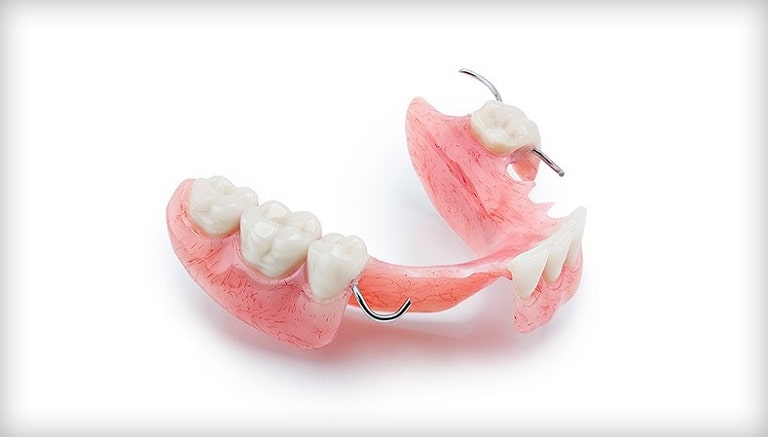 Removable partial dentures are exactly what the name implies: a denture that is removable and covers part of the mouth. Removable partials are designed to be held in your mouth with clasps that grab onto your remaining natural teeth, but can be removed and reinserted without professional help. While removable partial dentures will last patients about 5 years, they may have a negative effect on the health of the surrounding teeth, gums, and bones.>
Advantages of partial dentures
Removable partial dentures look and feel natural in the mouth, and they're also less expensive and easier to repair and replace than other tooth replacement options.
Disadvantages of partial dentures
Some people might find partial dentures uncomfortable, at least until they adjust to wearing them.
Dentures must be removed and cleaned daily, and you'll also remove them before bed. This constant handling can make them more susceptible to damage.
Full Dentures
Although they have a bad reputation for looking fake, full dentures now look more realistic than ever when used to replace an entire arch. A custom-made base is crafted to offer the ideal fit to restore your ability to chew, speak, and smile with confidence.