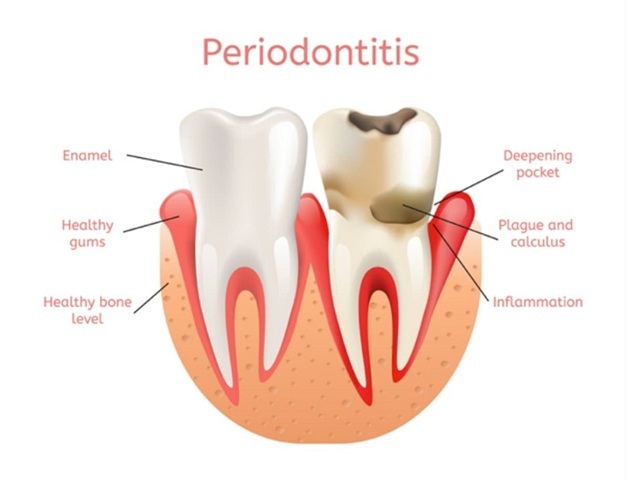 Periodontal disease (also known as periodontitis and gum disease) is a progressive disease which affects the supporting and surrounding tissue of the gums, and also the underlying jawbone. If left untreated, periodontal disease can result in loose, unstable teeth, and even tooth loss. The best way to prevent cavities and Periodontal Diseases is by good toothbrushing and flossing techniques, performed daily.
Healthy gums
---
Uninflamed gingivae without any of the signs of periodontal disease. Characteristics include:
Pale pink and firm gingivae
Stippled
Firmly attached to teeth
Knife-edge margin
Not normally prone to bleeding on brushing or probing
Types of Periodontal Disease

Periodontal disease begins when the toxins found in plaque start to attack the soft or gingival tissue surrounding the teeth. This bacterium embeds itself in the gum and rapidly breeds, causing a bacterial infection. As the infection progresses, it starts to burrow deeper into the tissue causing inflammation or irritation between the teeth and gums. The response of the body is to destroy the infected tissue, which is why the gums appear to recede.
There are many different varieties of periodontal disease, and many ways in which these variations manifest themselves. All require immediate treatment by a periodontist to halt the progression and save the gum tissue and bone. Here are some of the most common types of periodontal disease along with the treatments typically performed to correct them:
Gingivitis
Gingivitis is the mildest and most common form of periodontitis. It is caused by the toxins in plaque and leads to periodontal disease. People at increased risk of developing gingivitis include pregnant women, women taking birth control pills, people with uncontrolled diabetes, steroid users and people who control seizures and blood pressure using medication.
Chronic Periodontal Disease
Chronic periodontal disease is the most common form of the disease, and occurs much more frequently in people over 45. Chronic periodontal disease is characterized by inflammation below the gum line and the progressive destruction of the gingival and bone tissue. It may appear that the teeth are gradually growing in length, but in actuality the gums are gradually recessing.
Aggressive Periodontal Disease
Aggressive periodontal disease is characterized by the rapid loss of gum attachment, the rapid loss of bone tissue and familial aggregation. The disease itself is essentially the same as chronic periodontitis but the progression is much faster. Smokers and those with a family history of this disease are at an increased risk of developing aggressive periodontitis.
Periodontal Disease Relating to Systemic Conditions
Periodontal disease can be a symptom of a disease or condition affecting the rest of the body. Depending on the underlying condition, the disease can behave like aggressive periodontal disease, working quickly to destroy tissue. Heart disease, diabetes and respiratory disease are the most common cofactors, though there are many others. Even in cases where little plaque coats the teeth, many medical conditions intensify and accelerate the progression of periodontal disease.
Necrotizing Periodontal Disease
This form of the disease rapidly worsens and is more prevalent among people who suffer from HIV, immunosuppression, malnutrition, chronic stress or choose to smoke. Tissue death (necrosis) frequently affects the periodontal ligament, gingival tissues and alveolar bone.
What are the risk factors for periodontitis?
---
There are a number of factors that increase your chance of developing periodontitis and make it more likely to progress. Well-known risk factors include stress, some systemic diseases such as diabetes, and – most importantly – smoking.
Hard-to-reach areas 
Any irregularity that makes tooth cleaning difficult can encourage the accumulation of plaque, including:
Malpositioned teeth
Overhanging edges on fillings
Poorly contoured fillings
Some types of dentures
Calculus (tartar) formation may cause plaque retention
Patients ignore symptoms and professional advice
The early symptoms of gum disease may be ignored for a number of possible reasons:
Lack of awareness of gum health importance (believing bleeding gums to be 'normal')
A belief that teeth are more important than gums
More focus on current cosmetic issues rather than on possible future issues caused by periodontal disease
Expect dental practitioner to fix gum issues instead of proactively managing own gum health
How can I recognise periodontitis?
---
Periodontitis always begins with inflammation of the gums, known as gingivitis. This is not always easy to recognize but one of the first signs that you may become aware of is bleeding from the gums when you brush your teeth. The gums may look red and swollen and you might notice a discoloured layer of bacterial plaque on the teeth.
Left untreated, gingivitis may progress to periodontitis, often without any obvious signs to alert you.  However, some changes that you might experience over time include: increased bleeding from the gums, which may be provoked by brushing or eating, or even be spontaneous; bad breath; changes in the positioning of the teeth in the jaws; lengthening of the teeth (gum recession); and possibly pain. Bleeding from the gums may be less noticeable in smokers, because of the effect of nicotine on blood vessels, and so the disease process may be masked.
It often happens that the presence of periodontitis is not recognized by an individual until they are 40 or 50 years of age, by which time a great deal of damage may have occurred. However, a dentist is able to detect signs of the disease at a much earlier stage during a routine examination and can monitor your periodontal status using a special assessment known as the Periodontal Screening Index.
?What are the consequences of periodontal disease
Periodontitis is the leading cause of tooth loss.
If the progress of periodontal inflammation is not halted, the supporting structures of the teeth, including the surrounding bone, are destroyed. The teeth eventually loosen and are lost, or require extraction. Other problems patients may experience include painful abscesses, drifting of the teeth which may interfere with eating, and unsightly lengthening of the teeth with exposure of the roots, as a result of gum recession
It is now understood that untreated periodontal disease can have effects on general health; for example, it poses an increased risk for complications during pregnancy (pre-eclampsia, premature birth and low birth weight) and also an increased risk for heart disease and diabetes
?How is periodontitis treated
---
With careful assessment and treatment, it is usually possible to completely halt the progress of periodontitis. The key to success is to eliminate the bacterial plaque which is triggering the disease process and to establish excellent oral hygiene practices
Oral hygiene instruction and advice
The aim of the oral hygiene phase of treatment is to reduce the number of bacteria in the mouth and therefore reduce the level of inflammation. Your dental practitioner will first explain the causes of your periodontitis and explain exactly how to keep your teeth and gums clean. You will be given individual advice on how to use the various cleaning aids most effectively; for example, the most appropriate tooth brushing technique and the correct use of dental floss and interdental brushes
Toothbrushing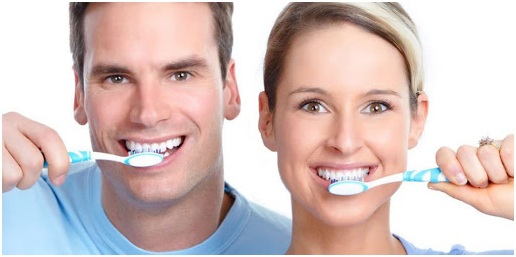 The most important plaque control method is toothbrushing,  which should be established as a daily routine from early childhood. Parents/carers should commence brushing their child's teeth (without toothpaste until age 2 years) as soon as  the first tooth appears in the mouth. From age 2 years, a peasized amount of toothpaste containing 1,000–1,500 ppm fluoride is recommended. Parents should continue to brush their child's teeth until the child develops sufficient manual dexterity to effectively brush his/her own teeth (approximately age 7 years). Parents should ensure that the first permanent molar teeth, which appear at the back of the mouth at about this time, are included in the brushing routine as soon as they appear. Toothbrushing skills should be taught to people of all ages.
The precise technique is less important than the result, which is that plaque is removed effectively every day without causing damage to the teeth or gums.
Recommended Flossing Technique
Starting with clean hands, break off about 45 cm (18 inches) of dental floss from its dispenser. Wind one end of the floss around a middle finger of one hand. Wrap the other end and most of the floss on the same finger of the other hand, leaving a small length (7 to 10 cm / 3 to 4 inches) stretching between the hands. With the floss held tightly between thumb and forefinger or using your interdental flosser, use a gentle sawing motion to guide the floss between adjacent teeth. Take care not to snap the floss against the gums when doing this to avoid injury
When the floss reaches the gum line, curve it into a C shape against one tooth and gently slide it into the space between the gum and the tooth. With the floss kept tight against the side of the tooth, gently move the floss away from the gum with up and down motions. Repeat this scrubbing action to clean plaque off the adjacent tooth. If preferred, interdental flossers such as shown in the image may also be used. Move the floss back out from between the flossed teeth and repeat this procedure till all teeth have been cleaned. As the floss gets frayed or dirty, unwind unused floss from one hand and take up the used slack on the other hand. Wash hands again after flossing
Professional cleaning

All soft deposits will be removed from accessible areas of the teeth and the teeth polished and treated with fluoride. Depending on the improvement seen in plaque control and gum health, further instruction and cleaning may be carried out in subsequent visits. The next step would be for your practitioner to remove all bacterial deposits and tartar from the root surfaces and gingival pockets
Antibiotic therapy
In some cases, with or without microbiological evaluation, antibiotics are prescribed to deal with active or persistent gum infections, which have not responded to oral hygiene measures
Reassessment
After several weeks, your dentist or periodontist will make a full assessment of your gums to check the progress of your treatment. A special instrument called a periodontal probe is used to record the depth of any periodontal pockets and check for bleeding from the gums. If periodontal pockets are still present, further treatment options may be suggested, including surgical corrective therapy
Corrective (surgical) treatment
Sometimes, a surgical procedure is carried out to clean away plaque bacteria and deposits that are under the gum within periodontal pockets and on the root surfaces at the furcations (where the roots diverge). These areas are inaccessible to brushes and floss and inflammation will persist in these sites as long as bacteria are allowed to colonize them. Under local anaesthesia, the gum is lifted away and the root surfaces are cleaned under direct vision to ensure that all bacteria are removed. Sometimes, it is possible to treat bone loss at the same time using a special regenerative treatment. At the end of the procedure, the gums are sutured back into place around the teeth
Gum Grafting Procedures 
When gum recession has occurred, gum reconstruction using grafting techniques in an option
In addition, gum recession often results in tooth root sensitivity to hot and cold foods as well as an unsightly appearance of the gum and tooth. Also, gum recession, when significant, can predispose to worsening recession and exposure of the root surface, which is softer than enamel, leading to root decay and root gouging or notching
A gingival graft is designed to solve these problems. A thin piece of tissue is taken from the roof of the mouth, or gently moved over from adjacent teeth, to provide a stable band of attached root protecting gum or gingiva around the tooth. The gingival graft may be placed in such a way as to cover the exposed portion of the root and restore the normal appearance of the tooth
The gingival graft procedure is highly predictable. When done with the benefit of a surgical microscope, the procedure is very comfortable, offers superior esthetic results and heals very quickly. Today's microsurgical procedures offer comfort and esthetic results far better than those offered using a conventional surgical approach so prevalent in periodontics for many years
Follow up: supportive periodontal therapy
---
The long-term success of periodontal treatment depends both on your own efforts with oral hygiene and those of the practice team who provide your regular care and ongoing assessment. After the first phase of treatment has been completed, your dentist will need to review the condition of your gums at regular intervals to check that the inflammation has been halted. The frequency of your follow-up appointments will depend on the severity of disease and your individual risk of disease progression. Usually, follow-up visits are scheduled for every three to six months
Regular follow-up appointments are vitally important to ensure that the disease process does not recur, causing further destruction of the gums and supporting bone. If there are signs of continuing disease, your dentist will be able to identify new or recurring sites of inflammation and treat them at an early stage. You will also be given advice on how to modify your oral hygiene practices to tackle the inflammation
Preventing Gum Disease
---
The best way to prevent gum disease is effective daily brushing and flossing as well as regular professional examinations and cleanings. Unfortunately, even with the most diligent home dental care, a certain percantage of the population can still develop some forms of periodontal disease. Once this disease starts, professional intervention is necessary to prevent its progress