If you have missing or broken teeth, there is no need to worry with modern technologies such as dental implants you can have normal functional prosthetic teeth that are essentially like natural teeth.
Why Do You Need a Dental Implant?
---
Dental implants have become an increasingly popular solution for patients with one or more missing teeth. Implants provide a permanent replacement for missing teeth. They are often chosen over dentures or bridges because they look and feel more like real teeth. Implants also tend to be more durable than other options.
Having a tooth missing does not just mean an incomplete smile. The space can make it hard to eat and talk. Over time, the other teeth can drift out of alignment causing an uneven bite. Jaw pain and even bone loss can result. It is important to replace missing teeth, either with a removable appliance like dentures, or something more permanent like an implant.
Dental implants provide a permanent base for a single crown, or as an anchor for bridges or dentures. They typically consist of three parts: A post, an abutment, and a custom crown. The post replaces the root of the lost tooth. The crown sits atop the abutment, which joins the crown to the post.
Dental implant components
---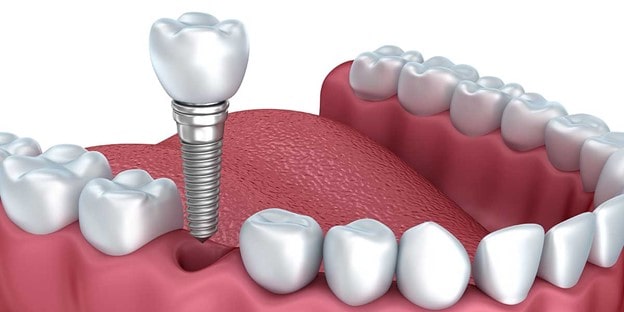 Implants borrow their design and appearance from natural teeth. In total, an implant consists of three components.
Using a thread, the cylindrical artificial root or implant body is being implanted in the jaw bone. Here it will grow together with the jaw bone. The implant body is the fundament for the implant crown which is positioned on top of it once the healing time is over.
The implant-abutment is a tailored compound made of titanium or ceramic that connects the implant body and the crown. Because of its two-sided interface it can also be called an adaptor. The dentist screws the lower half into the implant body. Afterwards, he attaches the crown on top it.
Next to this construction, there are one-piece designs. However, these constructions offer only little choice when it comes to different kinds of artificial teeth. That is why, they are less common.
The denture on the artificial root (a single crown, bridge or prothesis) is firmly attached to the implant-abutment. Materials used for artificial teeth are usually ceramic or metal. Next to a crown, there are other kinds of artificial teeth available like firmly attached bridges, so-called telescopic protheses and full dentures. These come in use when more than one tooth is missing or the whole jaw has become toothless.
By appearance and even functionality, artificial teeth can hardly be distinguished from your own teeth.
The most common types of dental implant materials
---
For so many years, virtually all dental implants were derived from one material called titanium. But with the advent of technology, more and more dental implants are now made from different dental implant materials. These materials have seen extensive research, critically considering the physical and chemical properties that affect their clinical applications.
Below are the common types of dental implant materials used in making dental implants today.
Titanium and Titanium Alloys 
Titanium is often regarded as being the 'gold standard' for fabricating dental implants and may be commercially pure or an alloy. Commercially pure titanium will usually have trace elements that include iron, nitrogen, oxygen and carbon which improves the mechanical qualities. Titanium alloys are mixed with elements that include aluminum and vanadium. The most common titanium alloy has 6% aluminum and 4% vanadium, and is heat treated to improve its strength, resulting in a low-density material that is resistant to corrosion and fatigue.
Zirconium
Zirconium is a material that can integrate with bone equally as well as titanium and its use eliminates patient concerns about metal allergies or sensitivities. Potential advantages of choosing zirconium include zero risk of corrosion and its use eliminates the possibility of metal showing through the gums or becoming exposed due to gum or bone recession. Zirconium is also thermally non-conductive but it is debatable if a person could actually feel thermal conductivity from a titanium implant. Zirconium has been in use for a relatively short period so its potential for longevity is not yet proven and less is known about the way it is Osseointegrated.
Ceramic 
Ceramic implants are in use for more than 30 years, although the treatment has been less successful in former years. Even the term "ceramic implant" is somewhat misleading. In fact, the aluminium oxide that was used previously has little to do with ceramic, the same holds true for zirconium that is being used today. With their particular characteristics, these materials resemble metal more than ceramic. However, they are generally referred to as free of metal.
What is a Dental Implant Procedure?
---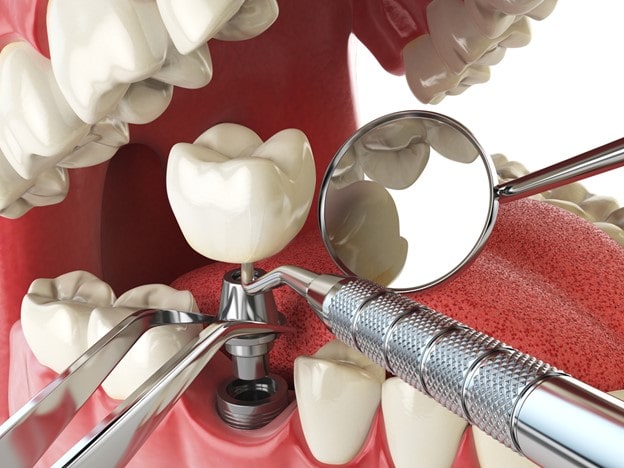 A dental implant procedure is an outpatient surgery. The implant is made of titanium and other materials that fuse with your jawbone and imitate the root of a tooth. This artificial root allows the dentist to secure your replacement teeth so they feel stable and blend in with your surrounding teeth.
Getting dental implants requires several appointments, including a consultation, an appointment to place the implant, and another to attach the new teeth.
Types of Dental Implant Treatments
---
Dental implants are a modern miracle that can be used in a variety of applications to replace a missing tooth, or teeth.
Single tooth replacement 
Most dentists agree that a dental implant is the best option for replacing a single missing tooth. A dental implant looks, feels and functions like a natural tooth. With proper care, an implant can last a lifetime.
Multiple teeth replacement 
There are several options for replacing multiple teeth, depending on the number of teeth that are missing. We can use multiple single dental implants, implant-supported bridges or implant-supported partial dentures.
Full teeth replacement 
If you are missing all your teeth, or have teeth that simply cannot be saved, we can provide you with implant-supported dentures, fixed implant-supported dentures or multiple implant-supported bridges.
So Are Implants Right for Me?
---
If you need to replace damaged or missing teeth, dental implants could be right for you. But first, a dentist will need to assess if you have healthy oral tissues, adequate bone to keep the implants in place, and a jawbone that's reached full growth. These factors help determine if your mouth can handle implants.
You will also need to commit several months to the process and consistently maintain good oral hygiene. This is so that your mouth heals properly and you don't experience implant failure.
A good dentist will guide you through the process and help ensure that your implant surgery is successful.
If you wish to have dental implants for your missing teeth and you live in Alison Viejo, CA contact us at 949-364-2935 to book an appointment.