Are you looking for Teeth in one day ?
---
Having no teeth is no fun. It is certainly inconvenient and very uncomfortable. Most people also feel embarrassed when they lose a tooth. In addition, while all patients can benefit from dental implants, the waiting period is often lengthy. These are all reasons why the All-on-4 treatment method was invented. Also known as Teeth-in-a-Day or Same-Day Teeth, this method is a cosmetic dentistry treatment that can provide patients with complete, brand new implants in a single day! The All-on-4 treatment received its name from the four dental implants that are used as a base onto which a full-arch, acrylic bridge is fixed to serve as replacement teeth in one day.
What is the Idea Behind Same-Day Teeth??
---
When you hear a dentist talk about "immediate loading" of dental implants, they are usually talking about a temporary crown that is placed soon after the dental implants are inserted into the jawbone. This provides both an aesthetic and functional appeal: patients can eat, brush, and get a complete dental implant in one day. The Same-Day Teeth (All-on-4) dental implant treatment is a procedure that was engineered by many dental implant manufacturers. The idea has advantages over other implant treatments since it ensures jawbone capacity for enhanced osseointegration (bone fusion), which speeds up oral rehabilitation and healing. The speed of the procedure allows candidates to receive a set of natural-looking teeth on the same day of treatment, with no need for bone grafting or sinus lift surgeries that require more treatment time and recovery. pastedGraphic.png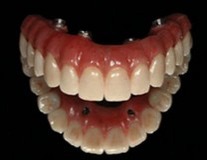 How Are Same-Day Teeth an Effective Solution for my Missing Teeth?
---
Teeth can be lost through tooth decay, infection, oral disease and injuries. People suffering from missing one or several teeth often feel uncomfortable with their appearance or self-conscious when smiling. They may try to hide their discomfort or simply do their best to cope with a mouth that is toothless. However, leaving unhealthy teeth or missing teeth untreated can lead to compromised oral health like periodontitis (gum disease) or affect facial symmetry and expression, as teeth move out of alignment to accommodate the gap from a missing tooth. For improved oral and overall health, as well as enhanced self-esteem, patients can choose between many different dental procedures and appliances (both fixed and removable). Our All-on-4 dental implant system may be used to attach dental bridges and crowns for a radiant, beautiful smile in just one day. The reason Dr Al Manesh uses All-on-4 implantology is to provide people suffering from missing teeth with an immediate, effective solution. Patients receiving All-on-4 dental implants are able to eat and speak normally on the same day of treatment. Same-Day Teeth can even provide greater stability than other methods like normal full dentures, which are known to be loose and slide in the mouth making eating and speaking problematic. Even patients with low bone mass concentrations can benefit from All-on-4 without needing to have costly and intensive bone grafts or sinus lift surgery. Healing time and comfort with All-on-4 is faster and allows patients to benefit without having to wait and endure a drawn-out treatment. One specific type of an immediately loaded dental implant is an All-on-4 lower denture. This is where four implants are placed in the jawbone to give support for an entire denture. The dentist would then place a temporary prosthesis over the implants for a natural look while the implants fuse to the bone.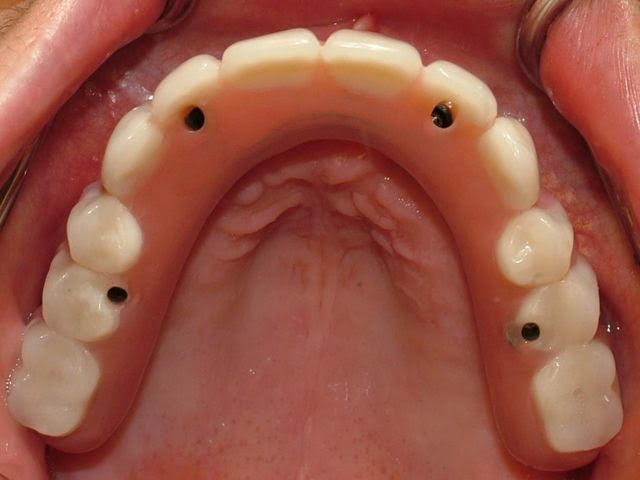 Am I a Good Candidate for Same-Day Teeth?
---
Your jawbone height and width are crucial for the All-on-4 procedure. You must have good oral health and good overall physical health. This means that if you are currently smoking, have an autoimmune disease, dental hygiene issues, or a chronic disease, you may not be able to get implants right away. Also, if you suffer from teeth grinding or clenching, a one-day implant may not be best for you as those problems can affect the long-term prognosis of implant therapy.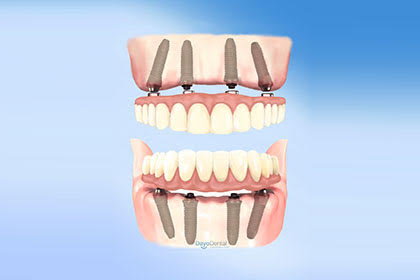 With a little care, your new teeth will provide you with nearly the same chewing power as that of natural teeth as well as a beautiful, radiant smile!