A new set of teeth could make a world of difference for someone whose teeth aren't fully functional. From the food we eat to the way we smile, our teeth affect our daily life. Can you imagine walking out of the dentist after just one appointment with an entirely new set of permanent teeth? In just ONE DAY, your teeth could be completely transformed, and you could walk out of the dentist with a new look and a confident smile! Teeth In One Day uses All-on-4 technology to give you a transformed smile in just hours. The All-on-4 treatment protocol is a full set of upper and/or lower permanent teeth secured by just four dental implants. The four implants create a secure foundation for a beautiful smile! Using this advanced protocol saves you from having an implant for every tooth. You will be able to enjoy meals again and smile confidently with a new, permanent smile. Teeth In One Day will give you a lifetime of smiles in no time at all!
What are Teeth In One Day?
---
Teeth In One Day are customized dental implants using All-on-4 technology that restores the full set of upper and/or lower teeth. They are replacement teeth utilizing just four dental implants. In a nutshell, Teeth In One Day are a beautiful new set of permanent teeth that can become your new smile in a one-day procedure attaching them to just four implants! All-on-4 provides a faster and less extensive procedure with the use of just 4 implants! With Teeth In One Day, you will feel as though you have your full set of natural teeth back!
What to expect during surgery
---
Dental implant surgery is an outpatient surgery. Every patient is different and surgical protocols are custom-tailored to your specific needs.
While the traditional implant process can take upwards of four to nine months to fully complete, Teeth in a Day can give you everything you need by the time you're ready to leave our practice. Your dentist will begin by capturing a high-resolution CT scan of your current jawbone structure, which will instruct doctors on where to place the implants. Then, a non-removable appliance is crafted to attach over the implants immediately after they're placed, providing reliable function. Typically, you will actually receive two restorations. Once the dentists receives your initial, temporary restoration he or she will begin the Teeth in a Day process.
In a typical surgery, bad teeth (if present) are removed with the aid of a local anesthetic, bone grafts are placed as required, and the jawbone is prepared to accept the placement of your dental implant. Then the necessary amount of time is allowed for your implant to integrate, or fuse, to your jawbone.
Once healed, your implant dentist will take molds or optical scans of your mouth to custom-make your artificial teeth. In a few short visits, you will enjoy the benefits and comfort of your new teeth.
For those patients undergoing the full arch "teeth in a day" procedures, you can expect to have all diseased teeth removed and leave the office with a temporary version of your new teeth that same day, and to return at a later date for placement of the final versions.
Is Teeth In One Day right for me?
---
If you are looking to restore your entire smile or an entire arch of teeth. If you have been told you need your teeth removed and a denture or you cannot currently wear your denture, Teeth In One Day using the All-on-4 technology can save you a tremendous amount of money.
HOW DENTAL IMPLANTS CAN CHANGE YOUR LIFE
---
Unless you have a missing tooth, multiple missing teeth or your teeth are failing, many of us forget or do not even think about how important our teeth are to our day to day lives and our health. Missing teeth can have detrimental effects on our self-esteem which can cause anxiety and stress. If your teeth are failing because of a condition such as gum disease this can have adverse effects on your overall health. Our teeth impact our mental as well as physical health and this is why teeth restoration is so important. There are non- fixed solutions, such as dentures, although they are not always easy, for example, many patients express their difficulty with eating and speech. Not only are dental implants a permanent solution, they are the closest thing to real teeth.
What are the Drawbacks & Benefits of Teeth in a Day?
---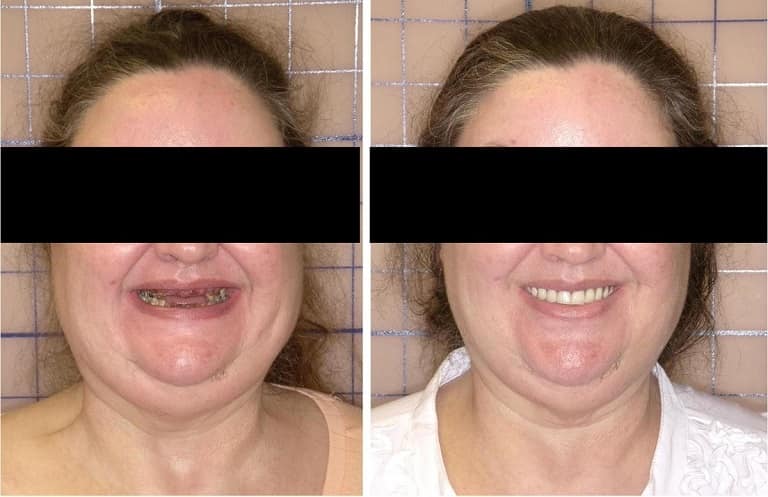 There are some drawbacks to the Teeth in a Day method. It can be more expensive in the long run since you will usually need two prosthetics. Additionally, patients have a slightly greater risk for dental implant failure than those who receive traditional dental implant supported dentures. Benefits of the Teeth in a Day procedure include:
No time spent without teeth, which retains facial shape, chewing function, and clear speech
The temporary prosthetic provides additional protection as your dental implant fuses with the jawbone
Patients can feel confidence sharing their smile throughout the treatment process
Are Teeth in a Day Possible for Everyone?
---
The dentists always try to provide a fixed temporary when requested, however there are some circumstances when the procedure should not be used. Softer bone quality and the inability to firmly place the implant may lead to early implant failure, if the implant immediately has a tooth or teeth on it. If the Teeth in a Day treatment option is performed, it is absolutely critical to follow your specific home care and diet instructions following the procedure.
When, and why, it can take longer than a day
---
Dental implant treatment involves both a surgical and restorative phase. In order for the dental implants to be successful, it requires the bone to heal around the implant. It may also be necessary to prepare the site to accept a dental implant, which may require a few procedures.
After adequate healing has occurred, the restorative phase may begin. Depending upon the complexity of the case, this may be one to six months, or longer.
However, as noted before, there are cases when significant work is needed that the majority of the treatment is completed in a single surgical visit. These are the cases where all affected teeth are removed and an immediate temporary provided at the same time.
Frequently Asked Questions
---
Who are the best candidates?
The ideal candidates for Teeth-in-1-Day (All-on-4 or All-on-6 Dental Implants) are those who are about to lose all of their teeth or those who are current denture wearers.
What makes this procedure different?
Considering the fact that the frontal part of the jaw has the more dense bone, instead of the conventional method of placing the implant straight into the bone (which can require sinus lift and bone grafting) and minimum 6 to 9 months waiting time and healing time, this technique differentiates by placing the back implants at an angle. Not only do you benefit from the dense bone in the frontal part of the jaw, but we can place a longer implant, with a much less invasive procedure, without entering into the sinus cavity on the upper arch.
How long is the procedure?
The surgery takes a couple of hours per arch under sedation/Sleep Dentistry and you will get a temporary fixed bridge set of teeth in just one day!
Is there going to be pain?
Since the surgery is much less invasive, is performed under sedation, and the patient is given anti-inflammatory medication prior to surgery, there is little discomfort and swelling.
What about healing time?
No healing time or bone integration is required to secure the fixed bridge onto the implant due to the fact that the implants are anchored into the bone. The usual 6-9 month bone integration is not required in most cases because we gain solid primary stability at the initial placement of these specialized implants.
All of my remaining teeth need to be extracted, how can the bridge be put on right after the surgery? Isn't time needed for healing? Aren't the gums too sore to handle the load of the fixed bridge and could I get dry sockets?
This is the least invasive procedure which can be done under sedation if desired. After extraction and implant placement, the bridge will be sitting on implants only and NOT on the soft tissue. The gum will be completely closed up after surgery, therefore, there is no socket exposed and no dry socket. Patients are placed on anti- inflammatory medication prior to surgery; therefore there is no pain or swelling. 9 out of 10 patients do not even take any pain medication after this procedure.
What is the cost of Teeth In One Day?
---
The cost of Teeth In One Day is a one-time investment for a permanent solution. But it can be an expensive ways to treat teeth.