The All-on-4 denture technique is one of the most advanced and comprehensive procedures in implant dentistry. It is suitable for people who are missing or about to lose all their teeth. When a full arch of teeth or both arches of teeth cannot be saved, All-On-4 dental implant dentures are the most comfortable and beautiful method to restore a healthy smile. Permanently fixed dentures are the clear choice in dental options when it comes to replacing a full arch of teeth that will allow the patient to regain confidence in their appearance and in social situations.
Is All-On-4® right for me?
---

The procedure is suitable for most cases where patients want to replace all their teeth. This includes scenarios where patients:
Are missing all or most of their teeth
have broken and decayed teeth that are difficult to fix
Have advanced gum disease and loose teeth
Are tired of unstable and ill-fitting dentures
Hate wearing dentures
Have been told previously that they are not suitable for implants due to insufficient bone in the jaws
If you are a denture sufferer, or hate the thought of wearing dentures, All-on-4 is definitely for you. With this technique, you can have a full set of FIXED teeth that look, feel, and function similar to your natural teeth in just 3 days!
The all on 4 technique immediately removes the need for any dentures, and the associated problems that come along with it. Imagine how great it would be if you didn't have to put up with loose dentures or annoying denture glues?
In most cases, implants are a great option for most patients. Age is typically not a factor that would prevent a patient from having this procedure. The only way to know if same day implant dentures will help you to achieve that beautiful confidence inspiring smile that you have been seeking is to schedule a consultation. During the consultation, implant team will perform a Scan. It is through the results of the scan that doctors determine the need of implants for you, and assist them in creating a customized treatment plan.
All on four implant benefits
---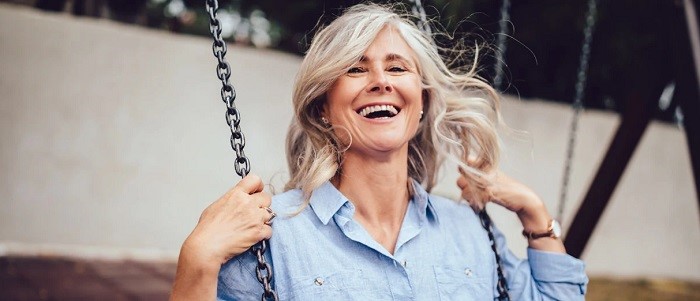 Doctors want you to have a great understanding of how this technique works to see if it is right for you or someone you know. For starters, you should know what a dental implant is. When one receives a dental implant there is a small titanium screw that replaces the root, part of the missing tooth. The screw fits inside of the jawbone perfectly. This procedure of placing the screw is considered a minor surgery and is required in order to place the implants. When the screw, or implant is properly placed into your jaw, we then attach a crown. Aesthetically, you will have a tooth that looks realistic and it is functional for you.
The great thing about All-On-4 dental implants is that you don't need to place an implant for every single tooth that you are missing. All doctors will do for you All-On-Four® implants is given you four perfectly placed implants for your top arch and four implants on your bottom arch. Between the 8 implants in the whole mouth, your smile will be completely restored. This is the excitement behind All-On-Four®. Another great benefit of using the titanium implant is that this material comes with the unique ability to fuse. The living bone in your jaw will fuse to the titanium screw. This is great because you will never have to worry about your new pearly whites falling out.
Your new smile will be long-lasting, and strong and give you the confidence that this is a permanent fix.
In addition to the fusion that takes place with the implant and your jaw bone, there is another benefit. The fusion prevents any future loss of bone that could possibly happen in the jaw. You will be able to enjoy a more youthful facial structure because of this procedure and don't forget about better oral health!
With All-On-4®dental implants, you will love all the amazing benefits, but you will most likely be grateful for the quick transformation that comes into your life because of your great smile.
After you choose this procedure you will be able to eat and enjoy all of the foods that you love. You can bite into an apple, you can eat raw vegetables like salads easily, you can also enjoy meat. A lot of people enjoy corn on the cob and that also is really easy to eat. They look beautiful and natural and patients absolutely enjoy having them.
All-On-Four dental implants procedure
---
Having full arches of teeth replaced using the All on 4 method requires multiple visits, sometimes to multiple doctors, and often months of healing time between stages.
Exam and records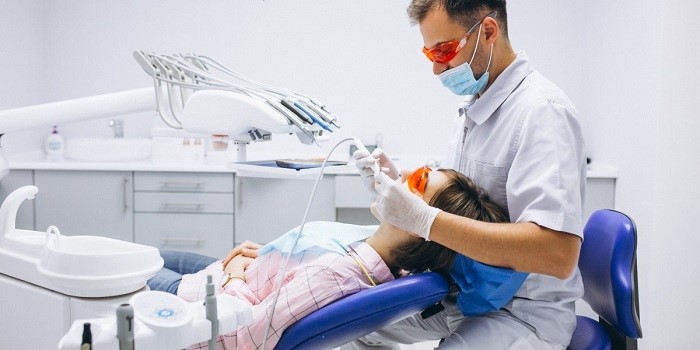 At this consultation visit, X-rays are taken of any remaining teeth to gauge their health. Impressions of each jaw are then taken to create precise models of your mouth. 3D images of the jaws are taken if the proper equipment is present on site. If not, you might be referred to take such images at a diagnostic imaging center. These 3-dimensional images are used to gauge thickness of bone, locate the sinus cavities, and visualize nerves and other structures in the jaws.
Photos, health history, and other information are gathered. The consultation usually ends with financial estimates and arrangements being made and future appointments added to the schedule.
Treatment plan
Prior to the first surgical appointment, the dentist or oral surgeon will review the records and plan the procedure from beginning to end. This is to ensure you know what to expect and to make sure everyone on your new-smile team is on the same page.
They then use the 3D images taken of the bone of the jaws to create surgical guides. These guides allow the surgeon to precisely place the implants while avoiding features like nerves and sinus cavities.
First surgery: extractions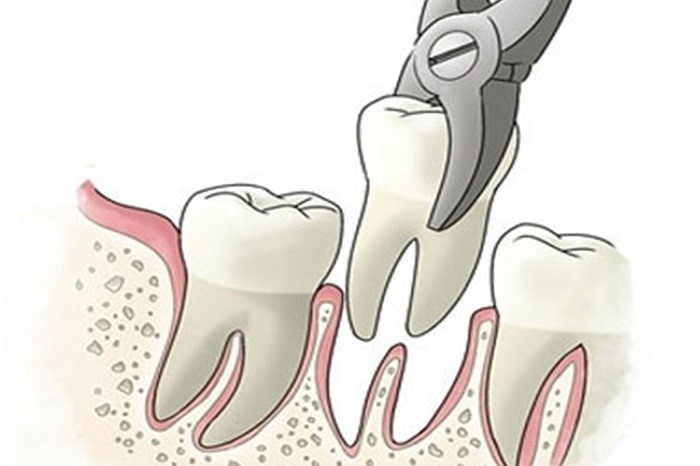 The first surgical procedure will be to remove any remaining teeth that need to come out. Sometimes this can be done at the same time as an implant placement. Most often it is necessary to do extractions and then wait for the mouth to heal first.
Occasionally, bone levels in the jaw are too thin to support implants or sinus cavities are simply in the way. In these cases, a separate surgery may be required to do bone grafts or sinus lift procedures. These procedures often require months of healing before the implant placement surgery can happen.
Second surgery: implant placement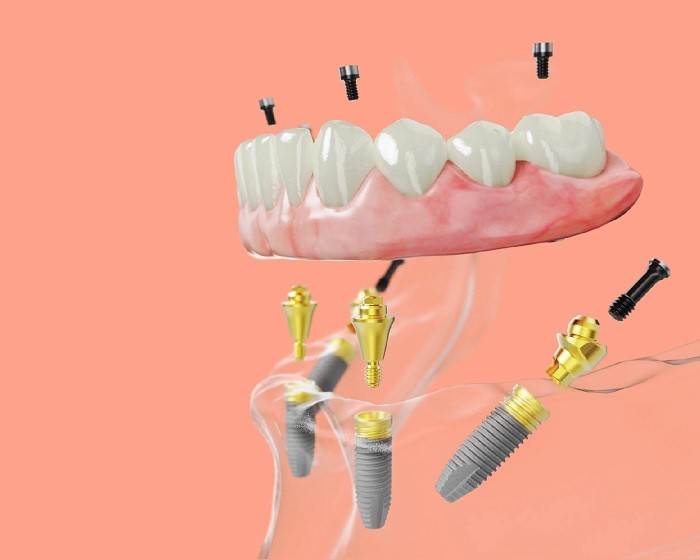 Once healing has occurred, the actual implant surgery can be performed. The patient is numbed and possibly sedated for the procedure. The surgical guides are used to precisely drill small holes in the bone in the right spots. Four areas are prepared in this way in the AO4 procedure.
Titanium posts are then placed into these holes. A small peg called a healing cap is placed on top of the implant. This allows the bone and gums to heal and attach to the implant before any load is placed on them. In most techniques, this healing process may take three to six months. During this time the patient has to wear a temporary denture or go without teeth in the surgical area.
Placement of restorations
After the healing phase is complete, the implants are firmly anchored to the bone. Custom tops, called abutments, can then be attached to the implants. These abutments are then used as the base for the creation of crowns or bridges.
These new teeth are made by a dental laboratory and permanently attached to the abutments.
Is the All-On-4 Dental Implant Denture Procedure Painful?
---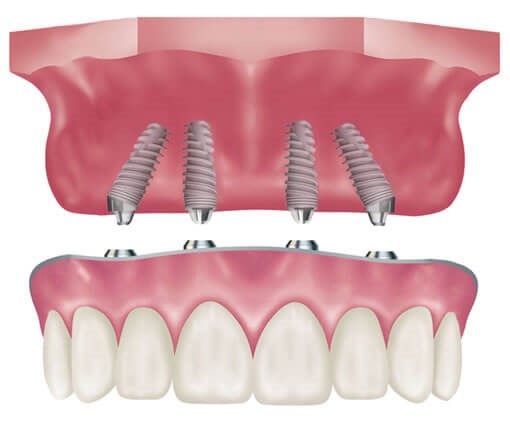 The same day teeth procedure is done while the patient is under IV sedation being administered by an experienced anesthesiologist. Since the patient is under deep sedation, they should not feel discomfort during the procedure.
All-On-4 recovery time
---
They still need the same healing time as traditional implants.This may include 3 or 4 months of healing time after extractions, sinus lift procedures, or bone grafting. An additional 3 or 4 months may be needed after implants are placed to allow them to fuse to the bone. Finally, it takes about another month before the final crowns or bridges can be made and glued in.
All in all, it may take a year or more before the procedure is complete and the permanent teeth are in the mouth.
How do you clean All on 4 dental implants?
---
Maintaining your All on 4 dental implants is key to enjoying the long-term benefits they have to offer. In many ways, cleaning your dental implants is very similar to brushing your teeth, but there are a couple of extra factors involved which you should be aware of in order to achieve the very best results from your surgery.
The gums around the implant require special attention to ensure that food particles do not get trapped around the base. A few simple steps are all you need to make sure your implants are kept clean and sparkling.
First, brush your implants twice a day as you would with natural teeth. A good quality manual or electric toothbrush should be used to brush your implants for 2-3 minutes, twice per day. Gentle, circular movements should be used all the way up to the gum line.
A water jet or waterpik flosser can then be used to access all the hard to reach places which you may have missed while brushing, including between the teeth and right down to the gumline. Using this tool once a day is recommended by most dentists as an effective way to remove food particles. If you can't access one of these tools, traditional dental floss can act as a good alternative.
Although dental implants are designed to replicate natural teeth as closely as possible, it would be impossible to make sure a crown is as tightly knitted into the gum as an actual tooth. Because of this, it's a good idea to clean around the base of the gum as well as the teeth. A rubber tip gum stimulator can help you do this. This will gently clean away at the gums and help you avoid infection, removing food particles in the process. While this entire cleaning process may take a little longer than just brushing your teeth, it will ensure that you All on 4 dental implants are kept in tip top conditions for years to come.
How much do All on 4 dental implants cost?
---
Because All on 4 dental implants are a relatively simple surgical process, they also act as a cost-effective option compared to many other treatments. All On 4 dental implants are less expensive than a whole mouth of individual implants. the cost of dental procedures can feel significant for many people, and the decision to proceed with something like All on 4 dental implants requires some serious consideration.
expertise will ensure that you see both the short-term and long-term benefits of your new implants. A clinical assessment can help you gain a clear understanding of the price you'll be paying for your treatment. The total cost of the procedure depends on the complexity of your treatment and the type of teeth you choose.