The goal of teeth replacement is to restore your tooth's function as well as esthetics. Dental Implants are a great way to restore a beautiful smile by replacing missing teeth. A dental implant is a surgical fixture that is placed into the jawbone and allowed to fuse with the bone over the span of 3 to 6 months. Dental implants act as a replacement root of a missing tooth. They are made of titanium, which due to its properties is not rejected by the body.
Best implant doctor in Southern California can use dental implants to stabilize a dental bridge or partial denture, as well as full sets of dentures with implant-supported dentures procedure,
The benefits of implant dentistry
---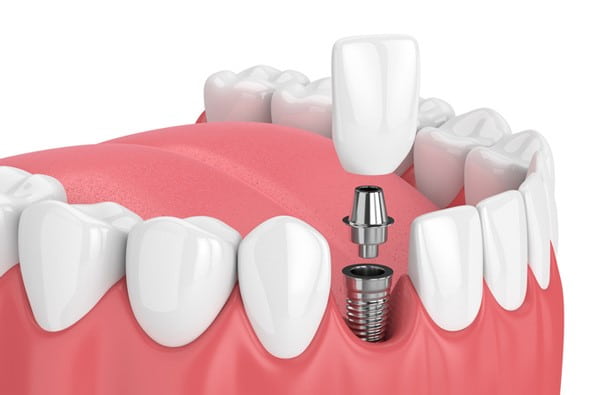 One of the main benefits of implant dentistry over other tooth replacement options is that they prevent the sunken look that is associated with missing teeth. Because the implants are placed in the jawbone, they help retain the fullness and contours of the face by retaining the supporting bone, much like a natural tooth root.
In addition, dental implants look and function much more like natural teeth when compared with other types of replacement options. Unlike dental bridges, which depend on surrounding teeth for support, dental implants stand-alone without affecting other teeth.
Dental implants require no extra maintenance aside from regular brushing, flossing, and recall visits to see your hygienist.
Am I a candidate for Dental Implants?
---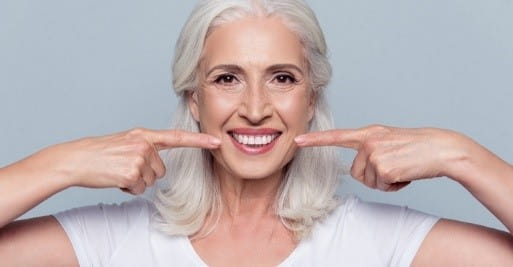 Generally, you need to be in good general health as well as having a healthy mouth. Dental implants are reliant on adequate jaw bone to allow placement and for good retention of the dental implant. It is important that, if you are considering dental implant treatment, there is no active periodontal (gum) infection present in your mouth as this can have a negative effect on your dental implant treatment.
Dental implants are intimately related to the jaw bone and overlying gum tissues. As periodontists are dental specialists with expertise in these fields, it makes good sense that you see a periodontist for the surgical portion of your dental implant treatment. Your dentist, periodontist and dental laboratory work closely as a team to put together your dental implant treatment from the initial consultation appointment through to the placement of the final implant crown.
Types
---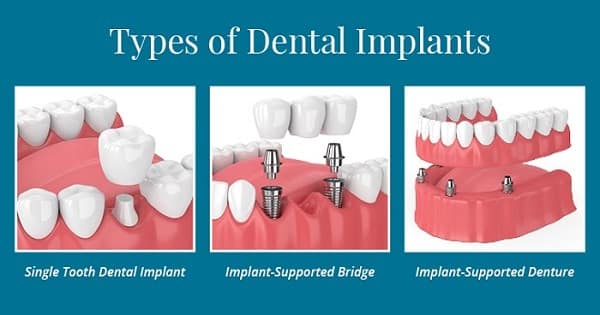 Implant-supported single tooth
When a patient needs one or more teeth replaced and wants the healthiest option with maximum stability, single implants are the best choice.
Implant-supported bridges
When a patient has multiple teeth that need replacing, a bridge that prevents significant shifting may be best.
Implant-supported dentures
When a patient needs an entirely new row of upper or lower teeth, an implant-supported denture is the most secure denture solution.
What to Look for In a Tooth Implant Dentist?
---
The dental implant procedure is a surgical procedure that requires a dentist with years of dedicated schooling and training. Dealing with the pain of an unsuccessful dental implant procedure is not worth your time or money. You need to look for an experienced dentist who cares about your needs and who will guide you towards the right dental plan.
How does implant dentistry work?
---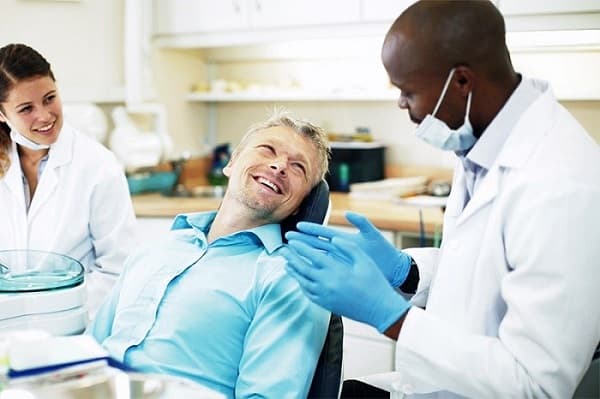 Step 1: Dental implant consultation
dentists will begin the tooth replacement process with a complimentary implant dentistry consultation. Best implant doctor in Southern California will examine your jaw and gums to determine if dental implants could be beneficial for you.
If your jawbone has an adequate foundation for the titanium posts that will be anchored to it, you might be a good candidate for this procedure. Age is not a barrier to implant dentistry; in fact, people of all ages are choosing dental implants for tooth replacement.
Step 2: Implant placement
If you are a good candidate for dental implants, the next procedure is the surgical placement of the titanium implant in the jawbone.
The use of local anesthesia makes the procedure comfortable for patients. If you're a patient that needs a little more relaxation, dentists also offer oral sedation.
Oftentimes, the site of the dental implant still has an existing damaged tooth present and the tooth will need to be extracted and a bone graft placed. In some instances, when enough bone is present, the damaged tooth can be extracted and followed by the implant placement at the same appointment.
Step 3: Healing period
Once the implants have been placed, the success of the implant depends on your body's ability to heal. There is a 3 to 6 month waiting period for the implant to integrate with your jawbone, forming a strong foundation for the replacement tooth.
Step 4: Place your restoration
The last step is to restore your smile with a restoration, which may include a:
Dental crown
Implant-supported bridge
Implant-supported denture (full or partial)
Best implant doctor in Southern California blends artistry with the science of dentistry to make your restoration look, feel, and function like your natural teeth! No one will know you have dental implants.
Additional Procedures in Implant Dentistry
---
Ridge (Graft) Augmentation
Defects in the upper and lower jaw bone may result following the loss of teeth, trauma or infection. Such damage to the jaw bone may leave inadequate bone into which to place dental implants. To overcome this problem it is possible to lift back a portion of the gum and place bone graft or a bone substitute to build up the jaw and regenerate some of the lost bone.
This can be undertaken as a separate procedure or, in some cases, in conjunction with the dental implant placement depending on your circumstances. Ridge augmentation techniques help to enhance appearance and increase your chances for long term success of your dental implant. Such surgical techniques are intricate and technique-sensitive and as such require specialist care.
Sinus (Graft) Augmentation
In many cases loss of the upper molar teeth can be compromised by poor bone quality and quantity. The key to successful implant treatment is adequate bone quantity and quality. The back part of the upper jaw is also an area into which a portion of the sinus cavity can be found.
This creates difficulties for implant placement unless sinus augmentation is undertaken. Sinus (grafting) augmentation is a specialized surgical technique in which the sinus floor is gently raised to develop bone and allow for more ideal dental implant placement.
Follow-up care
Just like your teeth, dental implants require careful and thorough cleaning (oral hygiene) at home on daily basis and regular dental check-ups. Dental implants are very much like your natural teeth and will require similar care both at home and at the dentist.
The right brushing technique, flossing and keeping the plaque levels in the mouth to a minimum are all-important for the long-term health of your new dental implant.
Following the completion of your dental implant treatment, your periodontist and dentist will collectively develop the best maintenance program for you. Follow-up appointments are necessary to monitor the health of the bone and gum around the implant tooth as well as your overall gum health.
Dental hygienist plays a vital role in maintaining the health of your implants by cleaning difficult to reach sites and coaching on the best methods and devices to keep healthy at home
Cost of Dental Implants
---
First, every case is unique. Not per procedure—but per implant. Some patients are only going to need a single implant, whereas others will need several because they're missing multiple teeth.
Note that this is only the cost of the dental implant itself. There are other costs involved including:
The crown (the tooth itself) – this can be custom or stock
The abutment (the part that connects the implant and the crown)
The cost of tooth and root extraction
The cost of the office visits.
Pre-op care
Post-op care
How to Determine the Exact Costs of Your Dental Implants
---
the total costs of dental implants can vary greatly depending on each patient's case. Some will need single implants while others may require full arches. Additionally, the physical characteristics of each patient's mouth will factor into the work that will be required and ultimately the type and price of the implants.
The best way to find out what your implants will cost is to have an initial consultation with best dental implant dentist in Southern California.
doctors will use the 3D scan image during the consultation to determine the density of the bone and to see whether you're a candidate for an immediate implant or if some additional grafting will be needed prior to implant placement. After your consultation, you'll know exactly what will need to be done and what the total costs will be.