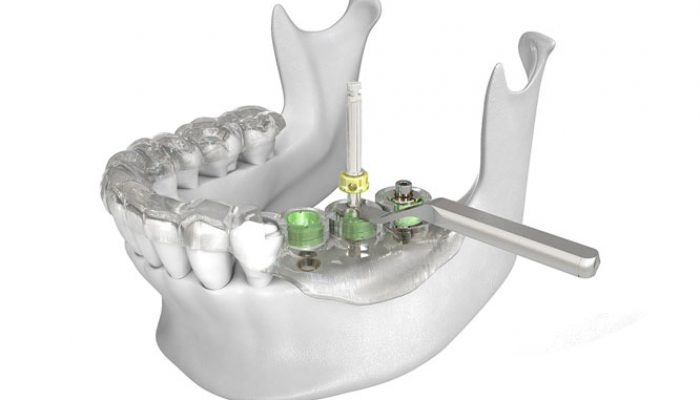 Digital implant surgery (also called digital navigation implant surgery) uses a 3D computer simulation to check the bone condition and nerve position. With this information, your dentist will be able to plan a surgery with minimal incision. Since digital implant surgery focuses on making the smallest incision possible, there is significantly less pain compared to traditional implant surgery.
During the dental procedure, an exact guide is fitted over your teeth to ensure no damage is done to the surrounding nerve or teeth. The guide also helps your dentist makes precise, yet small, incisions for dental implant placement.
What are the advantages of digital dental implant?
---
The following are some of the advantages of remote implant dentistry:
They protect the jawbone and other facial features, allowing you to keep your facial structure.
They restore the functionality of your teeth with the next best thing to natural teeth.
They improve the appearance of your smile as a whole.
They will help you speak more clearly because they are more like natural teeth and are easier to talk with than conventional dentures.
They are more comfortable to chew with than conventional dentures, and they are sturdy enough to bite into a variety of foods.
You no longer have to worry about cavities with dental implants, but you should also see your dentist regularly to ensure that the implants and your gums are kept as clean and safe as possible.
Digital dental implants can help hold the other teeth in their proper locations by preventing pressure from building up, which can cause teeth to shift.
Unlike conventional dentures, digital dental implants will not fall out when you laugh, sneeze, chew, or cough, saving you from embarrassment.
Dentures and fixed bridges do not last as long as digital dental implants. While crowns can need to be replaced, they may last a decade or more if properly cared for.
There are some advantages of automated dental implants as opposed to conventional insert methods. The entire process can be simplified thanks to technological developments in imaging, scanning, and computing, resulting in fewer visits and even greater precision.
Since the procedure is done without incisions or stitches, there is less disruption to the delicate gum tissue. Consequently, the operation takes less time.
The digital dental implant procedure is less painful and inconvenient, and patients are much happier as a result.
How is a digital dental implant performed?
---
With traditional dental implant surgery, the gum must be cut along the entire length of where the implants will be inserted. This is why many patients are now turning to digital implant surgery.
Digital implant surgery requires minimal incision because it uses 3D CT photos to check the bone condition and nerve position. Traditional dental implant surgery, on the other hand, requires making a large incision along your gums down to the bone.
The hole we make to fit in your dental implant is small enough to not need sutures. This not only decreases your recovery period, but also reduces risk of swelling, bleeding, and infection. Usually the entire digital implant surgery takes about 10 to 20 minutes per every one to two dental implants.